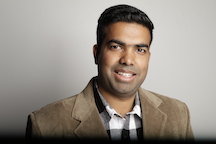 Hello , My name is Amit and i am a Certified Cloud Architect & Agile technology expert with almost 14 years of experience in Digital Transformations,Cloud Computing, Microservices, Web Content Management Systems, Web Portals, E-commerce Solutions, DevOps, Analytics, Rating solutions and JAVA. Thats a lot ha !! , Yes, i have done all of that in my 14 yrs career.
I work for Publicis Sapient as Senior Solution Architect.
My Professional Journey
I joined Publicis Sapient in 2007 and has worked on several projects that encompassed the full software development lifecycle.It took some fastidious work, as i become Extremely self-motivated Software Solution Architect with the ability to be ardent with project execution. I have valuable experience in defining, designing, implementing, and maintaining data-driven, object-oriented and service-based enterprise systems. In addition to industry and technical expertise, I also have evince skills in process redesign and in the management of successful teams, both onshore and offshore. The majority of my experience has been in the Media, Insurance, Travel and Hospitality, Commerce/Retail and QSR services industry. Specifically, I have worked on projects in the QSR, Commerce/Retail and insurance arenas. Most recently, I am leading the team working with a Fortune 500 QSR to deliver their Digital Transformation aimed at improving their day-to-day operations and help customers engage on their Digital touch-points.
Prior to that, I worked with worlds largest insurance company to help with start up initiative and its digital transformation. Before that, I played a critical role in the design and development of a CMS solution for global travel and hospitality company with global market rollout. At another large insurer, I worked to redesign the processes governing their data migration strategy. and the list goes on ……
Before joining Sapient, I mainly worked on projects in the life sciences and energy services industries.
Over the course of this expedition, i have gained knowlede on plethora of technologies.
Why this Blog Site?
Right after my Engineering Studies i had an ambition to work for technology company and took me years of conscientious effort to reach here. I feel that now i am at a space where i can contibute back to the younger and my peer community with my learnings. Thus i decided to indulge into creating this blog site on my personally hosted open source CMS in cloud. If you have time , please enjoy some readings about my thoughts on Digital transformation archietcures , cloud computing ,AI and ML technologies. These are practical experiences which i have gone through and have efficacious outcomes.
Connect with Me
If you are interested for a conversation or a chat. Please reach me on my linkedin.